September

2023

Sun
Mon
Tue
Wed
Thu
Fri
Sat

9

City of Plano - St Andrew Methodist Event - E-Waste & Paper Shredding

•

16

City of Plano - Christ United Methodist Event E-Waste & Paper Shredding

•
September 30, 2023

October 7, 2023

October 14, 2023

October 21, 2023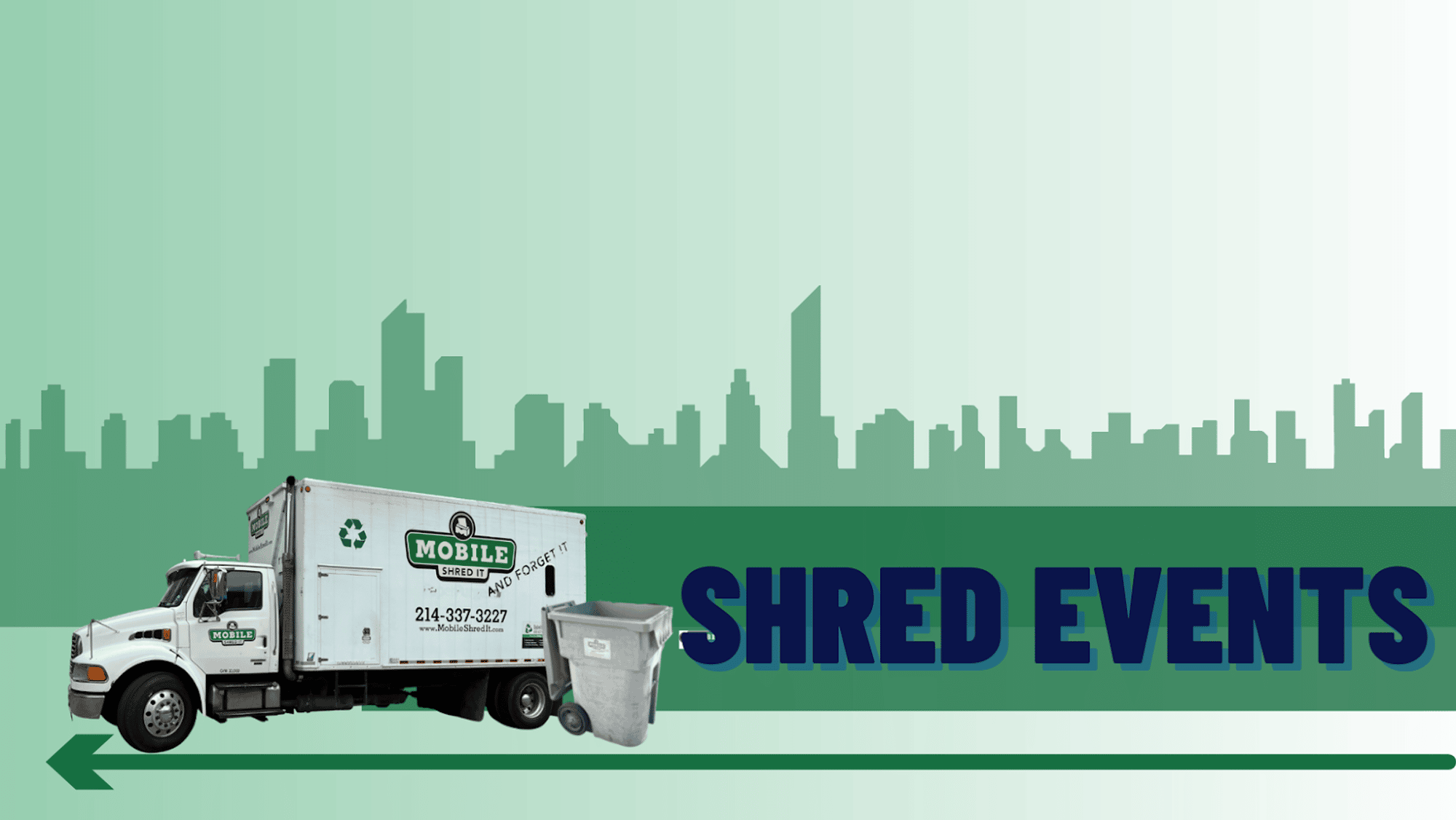 Secure on-site shredding services delivered to you
Mobile Shred IT partners with municipalities, community groups, property managers and businesses to promote the proper disposal of sensitive documents that accumulate at our homes and offices. Our event-ready mobile shredding units and professional Mobile Shred IT personnel will be on-site to destroy documents while event attendees witness first-hand the shredding of their documents. Mobile Shred IT operates to the highest security standards.
Shredding on-site is an easy, convenient process that many organizations, communities, and individuals greatly enjoy. Mobile shredding is a simple process that takes place at your premises. Mobile Shred IT's On-site shredding process:
A highly trained professional shredder will be scheduled for service at your convenience with a mobile shredding vehicle.

Secure equipment is used to transport documents to mobile shredding vehicle.

All documents are shredded on-site, with the opportunity to witness the entire process.

A Certificate of Destruction is provided ensuring your full compliance with state and federal privacy.
What is the mobile shredding process? 
Mobile Shred IT will discuss your document destruction needs and schedule on-site collection at the time and location of your choice. 

A Mobile Shred IT dedicated shredder will arrive at your chosen location with our mobile shredding vehicle.

Secure equipment is used to bring your document to the Mobile Shred IT shredding truck.

Collected paper and documents are shredded in our truck on-site and may be witnesses by the customer. 

A Certificate of Destruction is presented, verifying the responsible destruction of your confidential documents. 
Let Mobile Shred IT's team of experts design, promote, and manage your next paper shredding event:
Phone: (214) 337-3227
Email: [email protected]